Marrakesh House is a 21st century remodel of a mid-century modern home showcasing art and sustainable living on a hillside in Culver City. The home hosts overnight guests and weddings, private events for up to 120 people by special arrangement.  
 "Creating a space for living and getting together has always been important to me, especially living in Los Angeles where careers and traffic can overrun everything else," says co-designer, Chris Paine.  
"We wanted Marrakesh House to provide an expansive place to gather that reflects our interests in art, eco-design, and gardens".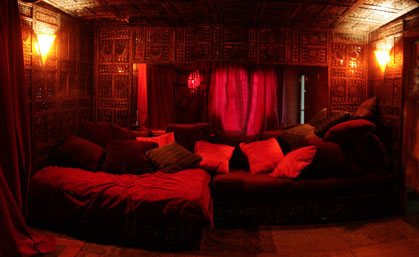 The architecture expands on the ideas of a  central courtyard Moroccan riad with the original indoor/outdoor flow of California design in the 1950s.  Solar energy provides nearly all of the electricity for the house, its events and electric vehicles.
Filmmaker Chris Paine collaborated with LEED AP project manager Shellie Collier and architect Eve Reyolds to reinvent the 50 year old structure. Numerous artists contributed to the project including painter/interior designer Scarlet Abbott and the acclaimed festival artist Shrine who installed two of his temples (one from the Coachella festival and one from recycled objects from the original house and yard).
Bios
Chris Paine
Chris Paine - Chris is a filmmaker and environmentalist living in Los Angeles and Southwest Colorado. He is best known for his documentaries "Who Killed the Electric Car?" and "Revenge of the Electric Car." Chris has executive produced numerous docs with collaborators including "Bikes vs Cars", "Faster", "No Maps for These Territories", and "Charge". On the nonprofit front, Chris serves on the Board of Directors of Friends of the Earth in Washington DC as well as Impro Theater in Los Angeles.
Shellie Collier
Shellie brings 20 years of experience in green project management, renovation, new construction, and architectural restoration.  Using a builder's perspective, Shellie creates sustainable design, green building and permaculture for multiple development and architecture firms in Los Angeles.  As a Green Point Rater and Certified Green Building Professional, she lectures for Santa Monica College's Green Building Advisory curriculum.
Shrine
Shrine is a self taught painter, installation, performance artist. Brent Spears (aka Shrine) survived a near fatal motorcycle accident at 18 and a near fatal high speed collision at 47 years old. These incidents profoundly influenced the artist outlook on redefining and creating space. The 29 years in-between were spent raising kids, chasing inspiration, painting buildings and creating installations out of trash and found objects internationally in galleries, museums and festivals. Shrine became an artist sitting and drawing in his grandmother's kitchens. Although those kitchens are long gone, Shrine is still diligently watching lines come out of his hands, still excited to practice a ritual that takes him home and gives his life meaning. Billy Shire of La Luz De Jesus Gallery Los Angeles gave Shrine his first show, first mural, first painting sold 27 years ago. His journey continues, each moment of self expression leading to the next.
Scarlet Abbott
Scarlet is a decorative artist with a background in painting and interior decoration. Born Charlotte Jackson, she lived at Fenton House, a national trust property built in 1693. It is here she found her inspiration for the decorative arts and studied under Harry Levinson then going on to have a thriving business in England, Australia and America. Since living in Los Angeles for the last 24 years, she has been published and worked in many celebrity homes including Charlize Theron, Sasha Stallone, Raquel Welsh and the late Tony Duquette with whom's estate she continues to work on projects with his partner Hutton Wilkinson. Scarlet is most known for her color and pattern designs done in secco fresco with hand made paints using earth pigments and applied on canvas.
Friends & Neighbors